Rock Climbing in Teller County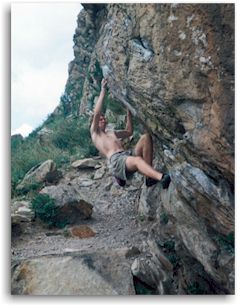 Rock climbing in Teller County is a quietly growing sport enjoyed by people of all ages and experience. There are several popular locations, as well as, many unknown climbing opportunities that bring their own measure of excitement and risk.
Rock climbing is very popular in Eleven Mile Canyon, along Shelf Road in Cripple Creek, at the Crags and Mueller State Park in Divide, Red Rocks north of Woodland Park, and numerous locations along Rampart Range Road near Rampart Reservoir. Due to the extreme risk you should never climb alone or without experienced people. There are several rock climbing instructors that will be happy to work with you to safely explore this unique sport.
If all you need to know are the best areas, it is strongly suggested that you review one or all of the following area rock climbing guides. Click on the suggested book below which we feel offers the most recent information. Click on the links below to get route information from Rockclimbing.com.