Mountain Biking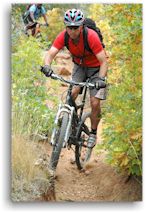 Teller County is a mountain biking enthusiasts dream come true. You'll find thousands of miles of trails offering novice to expert class adventure.

Pike National Forest, Mueller State Park, and Eleven Mile State Park offer exceptional trails. Many of the area designated hiking trails are open to mountain biking.

Review trailhead information listed under the "Hiking and Walking" menu link for more specific trail information.