Bed and Breakfasts of Teller County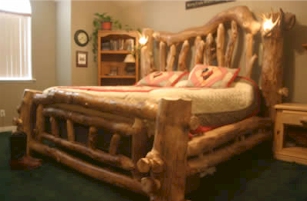 Teller County is home to some of the most beautiful Colorado style Bed and Breakfast establishments in the country. You will find that our area bed and breakfasts offer a variety of unique settings for your overnight, weekend, or longer visit.

Selecting the perfect bed and breakfast for your stay will be exciting. You'll find historical properties, romantic properties, new properties, secluded settings, and properties right in the heart of the local attractions. Teller County bed and breakfasts offer services that may include gourmet meals, wine & cheese hours, massage and spa services, free wireless Internet access, and much more.

We have grouped our member bed and breakfasts by their location for convenience. However, all are just a short drive away from local attractions and many are within an easy bike ride.
Bristlecone Lodge
Welcome to Bristlecone Lodge... Nestled in a lovely mountain town just 20 minutes from downtown Colorado Springs, Bristlecone Lodge is perfectly located to be your base camp for all of your Pikes Peak area adventures. The resort includes 8 beautiful, personally decorated, fully furnished...
read more

Tarryall River Ranch
A summer vacation at Tarryall River Ranch will never be forgotten!  The magnificent Rocky Mountain scenery and the clear Colorado weather combined with great activities and warm hospitality will provide the vacation of a lifetime! We are the Tesch Family and welcome you to the Tarryall River...
read more
Teller County Bed and Breakfast Locations (click on B&B name for full details)

Cascade, Colorado

America's Rocky Mountain Lodge
Blue Spruce Inn B&B
Chipita Lodge
Eastholme in the Rockies
Guesthouse at Chipita Ranch
The Inn at Cascade
Divide, Colorado
Silver Wood Bed & Breakfast
Stonehaven Inn Bed & Breakfast
The Lodge at Elk Valley

Woodland Park, Colorado


Eagle Fire Lodge
Pikes Peak Paradise
Pikes Peak Resort
Rusty Spur Bunk & Barn
Swiss Chalet
Woodland Inn Bed & Breakfast
Cripple Creek, Colorado
Carr Manor Luxury Bed & Breakfast
Cherub House Bed & Breakfast
Last Dollar Inn
Silver House Bed & Breakfast
Whispering Pines Bed & Breakfast