RV Parks in Teller County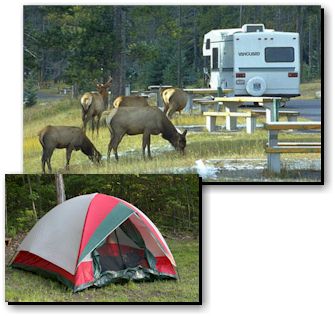 RV camping has always been popular with Teller County visitors. Whether you're heading out for a quick weekend getaway or expecting to spend the summer, you'll find a wide variety of RV friendly locations.

Public RV campgrounds with all connections include Pike National Forest campgrounds, Mueller State Park, Eleven Mile State Park, and Eleven Mile Canyon managed by the National Forest Service.
There are also hundreds of excellent RV camping locations which offer different levels of services. Favorites include Rampart Reservoir, Manitou Lake Recreation Area, Skagway State Wildlife Area in Victor, and The Crags.

A large number of private campgrounds offer many amenities to RV campers. Especially those campgrounds which have a great many of their visitors spend the entire summer enjoying the Teller County region and hospitality. Amenities may often include free WIFI service. Besides the normal connections most of the RV campgrounds also have onsite laundry facilities.
Bristlecone Lodge
Welcome to Bristlecone Lodge... Nestled in a lovely mountain town just 20 minutes from downtown Colorado Springs, Bristlecone Lodge is perfectly located to be your base camp for all of your Pikes Peak area adventures. The resort includes 8 beautiful, personally decorated, fully furnished...
read more
Public Campgrounds & RV Camping
Pike National Forest Campgrounds
Mueller State Park Campgrounds
Eleven Mile State Park Campgrounds
Eleven Mile Canyon Campgrounds
Private Campgrounds & RV Parks
Cascade
Green Mountain Falls
Chipita Park Area

Lone Duck Campground
Rocky Top Motel & Campground
Cripple Creek Area

Cripple Creek Gold Campground
Cripple Creek Hospitality House & RV Park
Cripple Creek KOA
Eagles Landing RV Park
Lost Burro Campground
RNK Park & Camp

Woodland Park Area

Bristlecone Lodge & RV Park
Diamond Campground & RV Park
Manito
Woodland RV Park

Divide Area
Lake George Area

M Lazy C Ranch
Travel Port Campground