Teller County Colorado Camping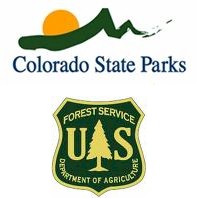 Camping in Teller County can almost be considered a sport.  There are so many great places to pitch a tent, set up a camper, or park a modern RV that you'll never run out of new scenery to see or new experiences to enjoy. 
If sleeping under the stars is what you're looking for, you'll find lots of places to "try" to sleep but with SO MANY stars in the sky you may be up all night just watching them.
Teller County is surrounded by Pike National Forest, a million acre playground just waiting for you to explore.  There is also Mueller State Park, one of Colorado's most beautiful state parks and nearby Eleven Mile State Park adding hundreds of campsites and new friends to meet.  You'll find both free campsites and those that require a nominal fee.  Reservations for fee campsites are strongly encouraged and can be made online.
Where you camp is uniquely your choice.  Choose the silence and privacy of a Rocky Mountain meadow full of wildflowers, a special campsite overlooking Rampart Reservoir, or the family friendly sounds of kids splashing in the pool at one of our private campgrounds.  Enjoy our Colorado Rocky Mountain beauty and please remember to watch over any fires.
Teller County is surrounded by the one million acres of Pike National Forest. Pike National Forest offers numerous undeveloped camping opportunities, and established individual and group campgrounds.

There are many private campgrounds and RV camping facilities throughout Teller County. Individuals, couples, or families should review the affordable cabin rentals available, the many nationally recognized summer and family camps located here, and the full service RV facilities in the area.