Cripple Creek Butte Theater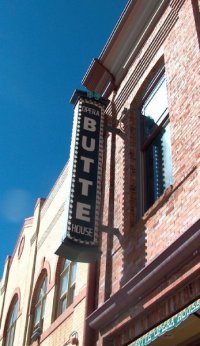 The stage for drama was set when gold fever hit Cripple Creek in 1890. A gold rush of major proportions was underway at the turn of the 20th century and a boomtown atmosphere called for entertainment galore.

Tired, thirsty and hungry, miners preferred the society of the gambling halls and saloons that lined the streets of the mining district. Madams, dance hall girls and medicine shows were the preferred entertainment of the less cultured, working element. Booze, gambling and debauchery prevailed. But there was also a more sophisticated lot who still yearned for the niceties of a society that they had left behind. Moving West, where social dress and fine dining was as scarce as running water, was quite a hardship for the socially inclined.

Early on, Cripple Creek and Victor both sported grand opera houses, providing much needed access to theatre, music and art. Such notable acts as Texas Guinan, Lily Langtree and Groucho Marx all performed in early Cripple Creek at one time or another.

Early in 1999, the City of Cripple Creek brushed aside some of the dust and saw a lost jewel hidden amongst the rubble. The City began extensive renovations to refurbish the Butte with fresh paint, Victorian-era wallpaper, and period chandeliers. A 1,350-square foot stage spans the main room, with seating for 174 guests. The sound booth is equipped with state-of-the-art movie projectors and sound equipment. A snack bar and roomy dressing rooms complete the theater's amenities.
2011 Thin Air Theater Show Schedule
Calamity Jane
June 24-September 4

Hazel Kirk
July 1-September 3

Vampire of Cripple Creek
September 30-October 30

Christmas Donkey
December 2-December 31

Get More information About the Butte Theater & 2011 Season:
The Butte Theater
139 E. Bennett Ave.
Cripple Creek, CO 80813

Call: 719-689-6402
Website: http://www.butteoperahouse.com