Pikes Peak Region Memorial Wall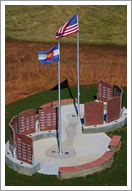 The citizens of Cripple Creek established this memorial as a place to reflect on the sacrifices for our freedom. Any members of our Armed Forces that have been killed in action since September 11, 2001 and were stationed at one of our five area installations, had a home of record in El Paso or Teller County, or were Air Force Academy graduates will be listed on the wall in remembrance of their service and sacrifice.

The Pikes Peak Region's Memorial Wall is constructed of Colorado Red granite and other native materials and is open daily.