Mollie Kathleen Gold Mine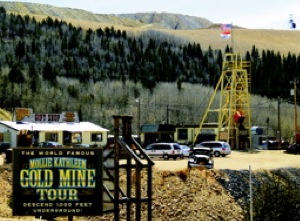 The Mollie Kathleen Gold Mine is perched 10,000 feet above sea level, on the Southwest slope of Pikes Peak, and is centrally located among more than 30 major Pikes Peak area attractions.

One of nearly 500 gold producing shaft mines, of the historic Cripple Creek Gold Mining District, The Mollie Kathleen Gold Mine is without a doubt the Country's most unique and fascinating mine tour adventures.

From the early beginnings of the Mollie Kathleen Mine, many passers-by would often wander-in, pleading to tour the underground mine.

Working miners would take turns guiding complete strangers on underground mine tours where fellow miners were extracting gold ore.

Once the word got around that people off the street could descend the shaft and tour workings 1,000 feet underground, demand for tours rapidly grew to the point touring soon became disruptive to mining operations.
America's Only Vertical Shaft Gold Mine Tour
Upon arrival, you will be introduced to your tour guide. Each miner/guide shares personalized insight into unique Cripple Creek gold mining methods and techniques as well as a fascinating history of "The World?s Greatest Gold Camp".

During a two minute 1,000 foot vertical shaft descent, touring guests will experience what many feel is like a time travel back to gold mining's heyday. Throughout the well lit shaft, while dropping below several levels of mine workings, visitors becomes infused with a strong spirt of the "Old West Hard Rock Gold Miner".
General Admission
Adults $15
Ch 3-12 $10
2-under Free

Mollie Kathleen Gold Mine
9388 Hwy 67
Cripple Creek, CO 80813
719 689 2466