The Brass Ass Casino in Cripple Creek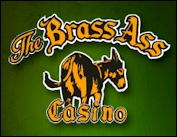 The Brass Ass Casino offers live action Blackjack, High Five Poker, Craps, Roulette and Poker Varient Games on the upper level of the newly remodeled Brass Ass Casino. Tables are open 7 days a week-24 hours a day. Come join us for cards, fun and friendly dealers!

The Brass Ass Casino is the oldest casino in Cripple Creek, but we offer the most modern video poker and slot machines around. We also have the largest selection of nickel slots of any casino in Cripple Creek. And our Ass Kickin' Double Jackpots pay you double if you win a hand-paid jackpot.

The Brass Ass Casino offers the friendliest service this side of the Colorado Continental Divide. Your area host will make sure you have everything you need, including your favorite adult beverages. And if you get hungry, you can choose from a hot dog piled high with all the fixins, or a delicious bratwurst. If you're looking for something with a bit more kick, the Brass Ass Casino now offers fresh oven baked pizzas and calzones. Do not forget about dessert, because the Ass Kickin' Pizzeria on the lower level also serves your sweet favorites.