JP McGills Casino in Cripple Creek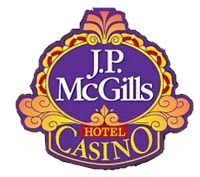 One of the most spacious casinos in historic Cripple Creek, JP McGills Hotel and Casino boasts unmatched variety and excitement, with a variety of video poker, slot and progressive machines to choose from.

Designed for comfort, convenience and excitement, the mezzanine in JP McGills Hotel and Casino overlooks the main level of the casino and has the hottest coin games in town.

If you get hungry, head down to JP's Pint & Platter, located in the main level of JP McGills Hotel and Casino. Cripple Creeks' first and only Irish Pub. Stop in and see for yourself why JP's Pint & Platter is the locals' choice and offers the nicest service of any Cripple Creek casino.

When you're ready to call it a night, JP McGills Hotel and Casino has a wide selection of affordable hotel rooms, located just upstairs from the casino. Our deluxe standard rooms, feature plasma TVs, wireless Internet (additional $7.99 fee), and a breakfast discount.

Upgrade to full-size suite and enjoy a jetted tub, fireplace and extra-large bathroom. Or treat yourself - and your special someone - to an unforgettable night in one of our themed fantasy suites - the Roman, Safari or Western. These themed Colorado suites fill up fast, so be sure to reserve yours now.