So Many Fun Things To Do In Teller County!
View the 2011 music schedule!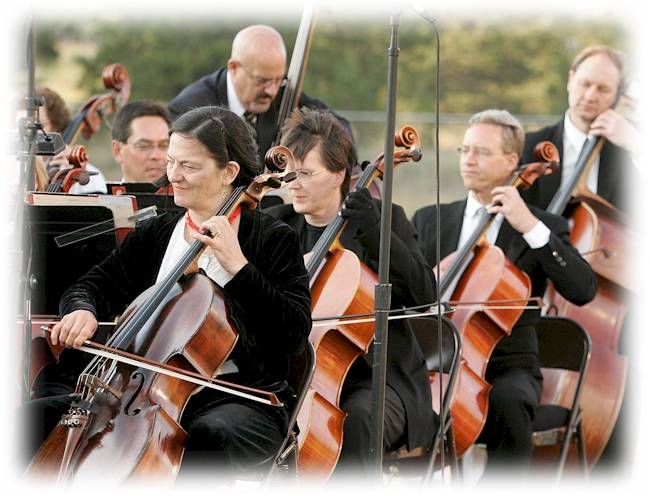 June 11, 2011 at 7:00 pm – Festival Orchestra Concert featuring the Colorado College Orchestra
The 2011 Woodland Music Series Concerts in Woodland Park Colorado kicks off on June 11th with the Festival Orchestra Concert, featuring the Colorado College Orchestra.  Held at the Ute Pass Cultural Center, this annual event brings music of all sorts to Woodland Park's residents and visitors.  This season will offer everything from Bluegrass to Big Band!
Don't miss your chance to enjoy great music in the beautiful surroundings of Woodland Park Colorado!
June 21, 2011 - Band Concert By The Lake in Green Mountain Falls
Colorado Springs Concert Band
7 pm Gazebo Lake Park
Sponsored by Triangle Chamber of Commerce
Info: Kevin Henry 684-8234
July 5th, 2011 – "Symphony Above the Clouds"
Thousands of people bring lawn chairs and picnic dinners while they listen to beautiful music and thrill to Tchaikovsky's "1812 Overature."  After dark, look forward to the fire and smoke of Ft. Carson cannons and the always popular city sponsored fireworks display.
31st Annual Symphony Above the Clouds presented by the Ute Pass Symphony Guild.
Preshow:  5:30 p.m. Featuring TBD
Concert:   7:30 p.m. Featuring the Colorado Springs PhilHarmonic
Location:  Woodland Park Middle School field
600 E. Kelley Road, Woodland Park, Colorado 80863
July 23, 2011 2pm til 10pm – 4th Annual Lost Dutchman Music Festival
Enjoy the 9 time Grammy Award Winning performance by ASLEEP AT THE WHEEL along with Nina Storey, Big Jim Adams and John Stillwagon.  A fun filled day with wonderful mountain views.  Rain or shine. 
Tickets $40.00 per person in advance and if available $45.00 per person at the gate.  Call 719-686-7738 for ticket purchases or email us at ldutchman1@aol.com.  Alcohol will be sold at the Lost Duchman Resort (no outside alcohol allowed in resort).  Ute Pass Kiwanis will have food for sale (all food proceeds go to the Teller County Kids).  Reserved camping is available, please call or email us for information.
August 9, 2011 – Band Concert By The Lake in Green Mountain Falls
Colorado Midland Brass
7 pm Gazebo Lake Park
Sponsored by Triangle Chamber of Commerce
Info: Kevin Henry 684-8234
Category: Music
Share with Others
eNewsletter Sign-Up
Get In Touch